04 September 2019
Employee satisfaction and loyalty stems from a healthy work environment and a strong corporate culture. To build bridges between your teams and within your organization, your employees need the time and opportunity to become better acquainted. Teambuilding activities are a chance for them to get to know one another in a friendlier and more relaxed setting, and when chosen wisely, they're an excellent way to create a sense of community amongst coworkers. But what should you choose? Here are our best activity ideas for building team spirit.
Studies have shown that a healthy dose of competition can bolster team spirit and boost productivity. A canoe race can be the ideal way to harness that energy to create bonds between employees. In a canoe, as in a business, working together is essential to move forward at a steady pace and in the same direction. You can organize a friendly race by forming small groups, who will paddle together to be the first to reach a given point on the water. Make sure that the teams are well-balanced to ensure the race is fair. The Eastern Townships offer where you can rent canoes for this unforgettable activity!
Rock climbing, much like professional challenges, requires agility, flexibility and problem-solving skills. Climbers also have to rely on their teammates to guide them and keep them safe. That's why this activity is perfect for building team spirit. The Centre d'escalade Backbone in Bromont offers 4,800 square feet of climbing space and games for all ages and experience levels. If you're a beginner, no need to worry: you can rent all the necessary equipment onsite. It's the perfect spot to get the group's adrenaline pumping! At the end of this intense day, your teams can relax and reflect on the experience over a smoothie, an espresso or a beer from a local craft brewery!
Meals are a great opportunity for conversation when we take the time to really enjoy them. Provide the ideal setting by giving your groups the chance to have lunch while taking in the magnificent landscapes of the Eastern Townships. Opt for a gourmet meal aboard the majestic Orford Express tourist train as you travel between Magog, Sherbrooke and Eastman, or enjoy a delicious meal aboard the luxurious Grand Cru as you cruise along Lake Memphrémagog. Many different options are available, whether you prefer a lunch, dinner or afternoon cocktail. This is the kind of activity that will delight your employees, and your teams will love getting better acquainted on an unforgettable train ride or cruise.
Want to ensure that your employees get to know each other over the meal, and encourage conversation? Bring along some with topic cards specifically designed to trigger discussions and place them in the centre of the tables. A sure recipe for success!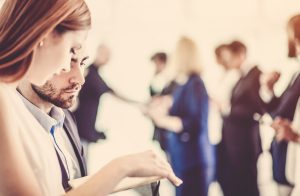 Many employees have a hidden creative side that is worth exploring. A filmmaking activity will stimulate their creativity and give everyone the chance to get to know each other better. You can use basic equipment such as camera phones, midrange equipment like compact all-in-one video cameras, or more specialized equipment such as cameras with microphones, tripods and lighting. Whatever you choose, this activity will be sure to foster cooperation. After all, filmmaking is a group effort that requires good communication and teamwork to succeed.
Here's how it works:
Start by choosing an inspiring natural setting that encourages openness and trust. The many parks and outdoor recreation centres in the Eastern Townships provide exceptional landscapes which are the perfect backdrop for homemade short films.
Split up participants in teams. The size will depend on the type of equipment used. Groups of 3 are enough for films shot on mobile phones, while groups of 6 or 7 may be required to operate additional equipment such as microphones and lighting.
Choose a theme that will require participants to introduce their coworkers through their short films. Teams can decide to make a single film featuring multiple people, or they can shoot several short films to introduce each person. Everyone will need to get creative to tell their teammate's stories in an original and interesting way in just a few minutes. The films should be shot without editing (participants will need to plan to film each scene in order), and a time limit should be set.
At the end of the day, organize a short film screening with popcorn and prizes! Fun and laughter guaranteed!
The workplace can be a chaotic and intense environment. Sometimes, all your people really need is a bit of rest. Giving your employees a chance to relax may be the best way to reduce tension, socialize and increase motivation. A relaxing thermal experience will boost your team's morale, which will, in turn, help increase productivity at work. For the perfect pairing, continue to awaken your employees' senses after the spa day by inviting them on an awe-inspiring journey through the Foresta Lumina at the Parc de la Gorge de Coaticook. Over an unforgettable evening, your employees will learn about the mythology of the Quebec forest. The activity will strengthen bonds between colleagues and be the talk of the office for months to come!
Devoting one day to your employees is not just a chance to remind them that their work is valued, but also a crucial opportunity to kindle positive energy. They'll pay it back a hundred times over!
For other activity ideas, visit www.cantonsdelest.com. Now get out there and have fun as a team!