12 August 2019
Besides hiking to admire this nature that enchants us each year, what other MUST-DO activities should be on your bucket list when you come to our beautiful region of Bromont and its surrounding areas this fall?
1. A day at the spa
The Eastern Townships is a premier spa destination. What could be better for appreciating nature's transformation than taking the time to ground yourself and contemplate it? Domaine Château-Bromont is close to several spas, including Amerispa, Balnea, the Euro-spa Wellness Resort, Spa Nordic Station, and Eastman Spa, to name just a few. They're all located in enchanting settings that will make you fall in love with Estrie.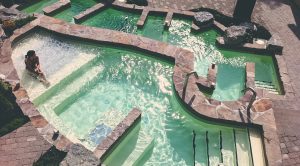 2. Divertigo and VéloVolant
Why admire the leaves changing colour from below when you can admire them from above? Divertigo is located at the foot of Bromont mountain. This adventure course will delight the whole family with its four height levels. VéloVolant, located in Glen Sutton, is a unique course in Canada that lets you travel 1 km at treetop height on suspended bicycles, soaring by ravines and waterfalls, and take advantage of the magnificent view of the green mountains of Vermont.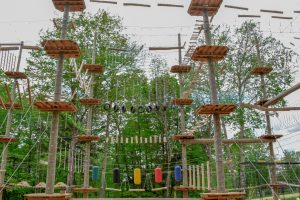 3. Foresta Lumina and Parc de la Gorge de Coaticook
This site's reputation is well established. But many people forget this enchanting site when autumn comes around. Combine a daytime visit to the Parc de la Gorge de Coaticook to admire the colours, then end your evening in Foresta Lumina. Don't forget to check the schedule for departure times.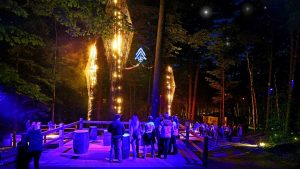 4. The cider route
We regularly recommend doing the wine route at this time of the year. But why not try the cider route this year? This route covers 130 km of the Montérégie region, lining up 10 attractions, including the Michel Jodoin cidery, whose products we offer in the Domaine, the Vignoble et Cidrerie Coteau Rougemont winery and cidery, Domaine Lavoie, and the Cidrerie et Verger Léo Boutin cidery and orchard, to name just a few.
5. Fort Débrouillard
"Inspired by the Fort Boyard TV series, this adventurer's paradise tests muscles and neurons, diplomacy and audacity, teamwork and individual efforts in an intensely physical and mental challenge. There are enough hazards and mysteries to stimulate your resourcefulness and push your body for several hours. At the end of the day, you will be thankful for a comfy bed!"
Do you have your own favourite spot you'd like to share with us? Don't hesitate to let us know! We love helping our guests discover our beautiful region.